Recently, I got a day pass to a big fancy gym to see what all the hype was about.  I didn't have much interest in joining, since I'm satisfied with my current combination of running, cycling and training at the gym where my fitness career began, but I really wanted to see what these Instagram bodybuilding models pay so much for.
Do you want to know what happened?
After about three minutes, I walked out.
It's not that the facilities weren't beautiful or that the staff wasn't nice, it was that it was an overcrowded, uncomfortable zoo of people all trying to out-do each other. 
My workout called for a circuit with 15 and 20 pound dumbbells, so I walked over to the weight rack to grab them.  All of the dumbbells had been taken off the rack and placed onto the floor in piles, which I assumed was because no one cleaned up after themselves. I found a pair of 15s lying alone in the corner, so I picked them up and started back for my mat set up in the corner.  Halfway back, I heard a deep voice loud enough to be heard in every corner of the gym.
"HEY, I'M USING THOSE! WHERE THE HELL ARE YOU GOING? WHAT'S WRONG WITH YOU?"
A man who had previously been using a cable machine about 30 feet from where I found the dumbbells was screaming at me.  I was shocked - he was no where near the weights that I grabbed, and he most certainly didn't look like the type who used anything less than 50 pounds.  I quickly apologized, but, disgusted, he said "forget it, take them. I don't want them anymore. Unbelievable."
So I got my stuff and left.
It's not that he had embarrassed me or hurt my feelings, I just found it so ridiculous that he felt like he owned those weights, and I certainly wasn't going to spend the rest of my workout afraid to change equipment.  
At that moment, I realized how much better it is to work out somewhere that makes you comfortable.  I train people in-home because that's where they're most comfortable to to try new things and to push their limits without fear of being judged.  Why would I want to do my own workouts somewhere that I wasn't comfortable, just because it was "cool" or "fancy?"
When I left, I headed straight home and had an incredible workout.
You don't need a fancy gym membership or tons of equipment to have work hard and get great results.  There are so many ways to work out at home and see changes in your body.  Here are some of my favorites.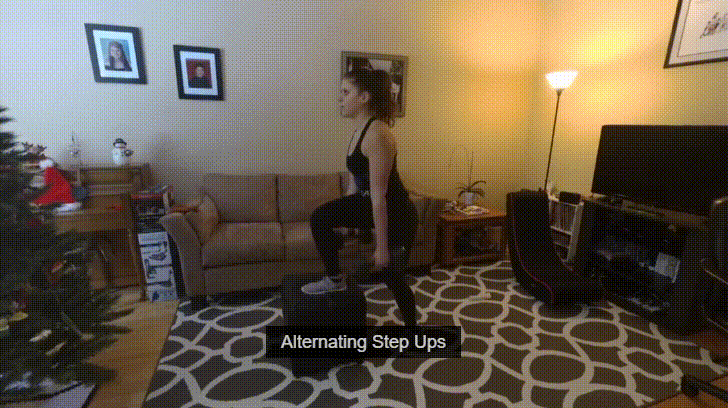 If you're looking for more fantastic at-home workouts to get you in shape, make sure to visit www.fitbygab.com/online-training and get your 5 home workouts a week!
Please reload