In order to make sure that I don't fall victim to the ol' holiday season 7-10 pounds, I'm making a vow to stay Healthy for the Holidays by finding time to sweat every single day during the month of December.  From December 1st - December 31st, I will accomplish a workout, go for a run, walk the dog, take the stairs or park in the back of the mall parking lot and jog to the entrance - whatever it takes to get my heart rate up and my blood pumping!
Not every day will be a butt-kicking sweat session, but every day will have intentional movement, because with intentional movement comes the mindfulness of what food I eat, and those two things combined are what keeps the holiday weight gain at bay.
I challenge you to do the same thing.
Here are my top 31 (one for each day!) ways to break a sweat, whether you've got 3 hours or 5 minutes.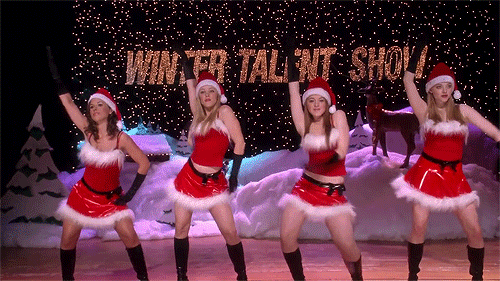 1. Hit the gym & lift heavy weights.
2. Go for a run.
3. Take a new group fitness class.
4. Go for a walk/walk the dog/take the kids for a walk.
5. Park far away from the store entrance.
6. Do high intensity intervals (40 seconds on, 20 seconds off of things like jumping jacks, push ups, high knees, jump rope, etc.) during the commercials of your favorite TV show.
7. Vacuum the house while wearing a weighted vest (holy MOLY this is hard!)
8. Take one full lap around the mall in between stores.
9. Watch your favorite TV show from the treadmill.
10. Do squats while brushing your teeth.
11. Take a lap around your office once every hour (bonus points for speed walking!)
12. Instead of going out for drinks with your coworkers, make a plan to try something fun like laser tag, a trampoline park or a rock climbing gym one day after work.
13. Shovel snow/rake leaves.
14. Clean out your fireplace/closet/basement/attic.
15. Do bicep curls with your shopping bags.
16. Go for a bike ride.
17. Try an indoor cycling class.
18. Do 100 push ups over the course of the day by setting an alarm and doing 10 at a time every hour.
19. Walk around the block while talking to your long-winded relatives on the phone.
20. Dance!
21. Build a snow fort or jump in piles of leaves.
22. Take the stairs instead of the elevator or escalator.
23. Then, takes the stairs two at a time.
24. For every present you wrap, do 20 jumping jacks.
25. Go ice skating.
26. Meet a friend at the gym for a partner workout (and so you can exchange gift ideas for those hard-to-shop-for people.)
27. Go on a walking/jogging tour of the lights and decorations in your neighborhood.
28. For every ornament/decoration you put up, do 10 squats.
29. Play a game of Twister (you won't regret it!)
30. Lunge through the aisles of the grocery store.
31. Try to relax and de-stress with a hot yoga class.
There are so many ways that you can break a sweat every day... all you need is the motivation to do it!
Take the Fit By Gab #HealthyForTheHolidays challenge and start your 2018 off the right way!
Please reload